Xihao Li
Welcome to my homepage!
I am a postdoctoral research fellow in the Department of Biostatistics at Harvard T.H. Chan School of Public Health (HSPH), mentored by Dr. Xihong Lin. I also work closely with Dr. Pradeep Natarajan, Dr. Gina Peloso, Dr. Zilin Li and Dr. Bing Yu, as a member of the NHLBI TOPMed Program. Prior to this, I received my Ph.D. in Biostatistics at Harvard University, where I was fortunate to be advised by Dr. Xihong Lin. My research interests lie in developing novel statistical methodologies that enable scalable and integrative analysis of large-scale whole-genome/whole-exome sequencing data and multi-omics data. I have also worked on methodological projects to develop statistical approaches for rare disease clinical trials and real-world evidence studies.
Previously, I received my M.S. in Biostatistics at Harvard University, B.S. in Mathematics (Statistics) from the School of Mathematical Sciences and a dual degree in Economics from the National School of Development at Peking University.

ORCiD: 0000-0001-8151-0106


Google Scholar


GitHub


Twitter

---
Contact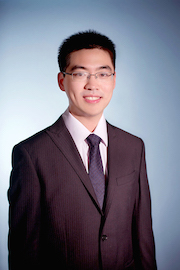 ---
Site inspired by Dr. Karl Broman and Dr. Ryan Sun.